Host and Post
& Call Tracking

Join our Early Adopters Program
Interested in learning more?
We are currently setting up beta accounts. Contact us to receive more information and receive updates about our platform.
Lead Distribution & Tracking Platform
The PingPost platform combines all of your technical lead sales and distribution needs with affiliate and advertiser tracking.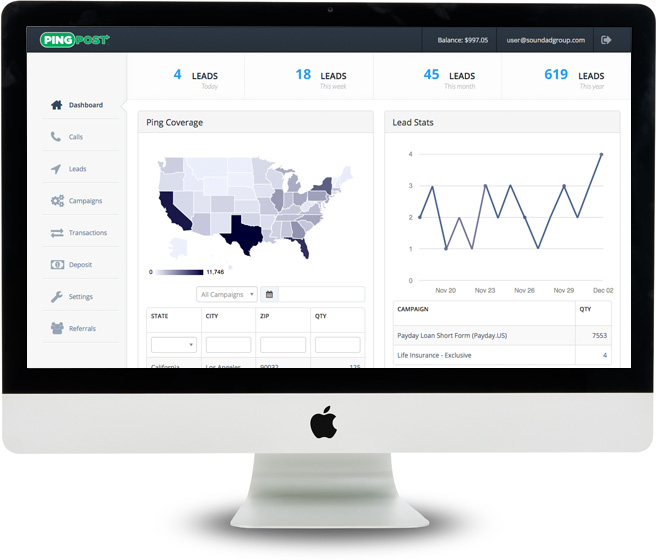 Host and Post Campaigns
Handle nearly every type of advertiser/lead buyer integration while optionally exposing campaigns to affiliates. Leads can be distributed using various methods such as ping tree, ping-post, exclusive, and more.
Affiliate & Advertiser Tracking
Allow affiliates access to your campaigns, manage flat-rate or percentage-based payouts, track and record phone calls, block sources, redirect tracking, enforce campaign privacy or approvals.
Pay Per Call Campaigns
Assign and manage DIDs, forward calls to buyers, create a "ring tree" (similar to a ping tree), fire conversions based on length of call, sale, or other trigger. Manage an entire pay-per-call network including affiliates and advertisers.
CPA Campaigns
Create, manage and track CPA (cost per action) and CPC campaigns. Affiliate login and tracking as well as optionally give access to advertisers to view their campaign statistics in real-time.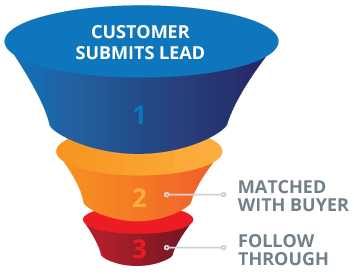 Buyer Marketplace Add-On
Create a marketplace where individual buyers can login, deposit funds, set their own filters, and bid on real-time leads and calls. Add these buyers to your ping-post trees for greater coverage and control. Alert buyers via email, SMS, or post leads directly to their in-house CRM.
Ping Post and Ping Tree Distribution
Use the most intelligent ping tree system available and easily add and configure complex ping-post deliveries. Use filters and triggers, pre-configured and custom lead and geo validation to only present leads that your buyers want to purchase.
Call Tracking and Dynamic Call Distribution
Assign and manage DID's, create dynamic IVR paths and utilize our ring tree technology to automatically optimize your buyers on a deeper level than just filters, day parting and caps.